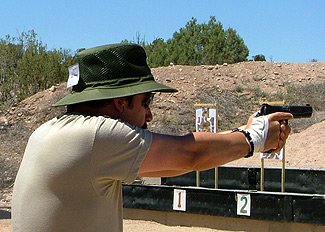 How VCD Grips were developed
When I am not putting bad guys in jail or shooting, I try to make my gear work a little better.
My inspiration for the grip design came after attending a 5 day 1911 training class in June of 2007. While the polymer grips I was running held their own, I was still having a bit of slippage as they day heated up and my hands became sweaty. I thought there should to be a better way, it should not cost $60 - $80 and it should really improve the grip one has on their weapon. After some experimentation, VCD Grips – "Vaya Con Dios," "Go With God" – were born.
How VCD Grips are made
These grips are individually textured, one set at a time, by someone (me) who who truely appreciates the need for a grip that allows the shooter maximum control over the weapon under adverse conditions. These grips are not the prettiest. I leave pretty to grip masters like Esmerelda and Hakan. However, the VCD Grips were developed with input from, and have been tested by, active-duty military personnel, FBI SWAT Team members, members of state and local law enforcement, Gunsite/Thunder Ranch/Trident Concepts/ EAG Graduates and long time IPSC/IDPA competitors who all agree the grips work as intended.
What do you think?
We'd love to have your feedback, questions and ideas for how VCD Grips can and do work for you. Contact us with any questions or comments any time.
We would also like to add a gallery of customer photos, so please send us yours. Our form does not allow attachments, so either just send a link to a service (e.g. Flickr) where you have posted it, or tell us you have a photo you want to email and we'll reply with a normal email address.